Professional Wood Oval 25mm Steel Pin Brush for Short or Long Hair Dogs and Cats, Pet Grooming Tools for Large and Small Dogs
WE ARE PROFESSIONAL!
Pet Poodle Printed in the backside, Cute for your pet!
15 Years Pet Brand, More Safety and Professional!
High Quality Wooden Pet Grooming Stainless Steel Pin Brush!!
Description:
Type: Pet Cleaning Brush Comb
Color: As picture show
Item Size: one size
Top Brush: Soft Rubber Pad
Material: Imported log materials + European Rubber Technology + Taiwan stainless steel needle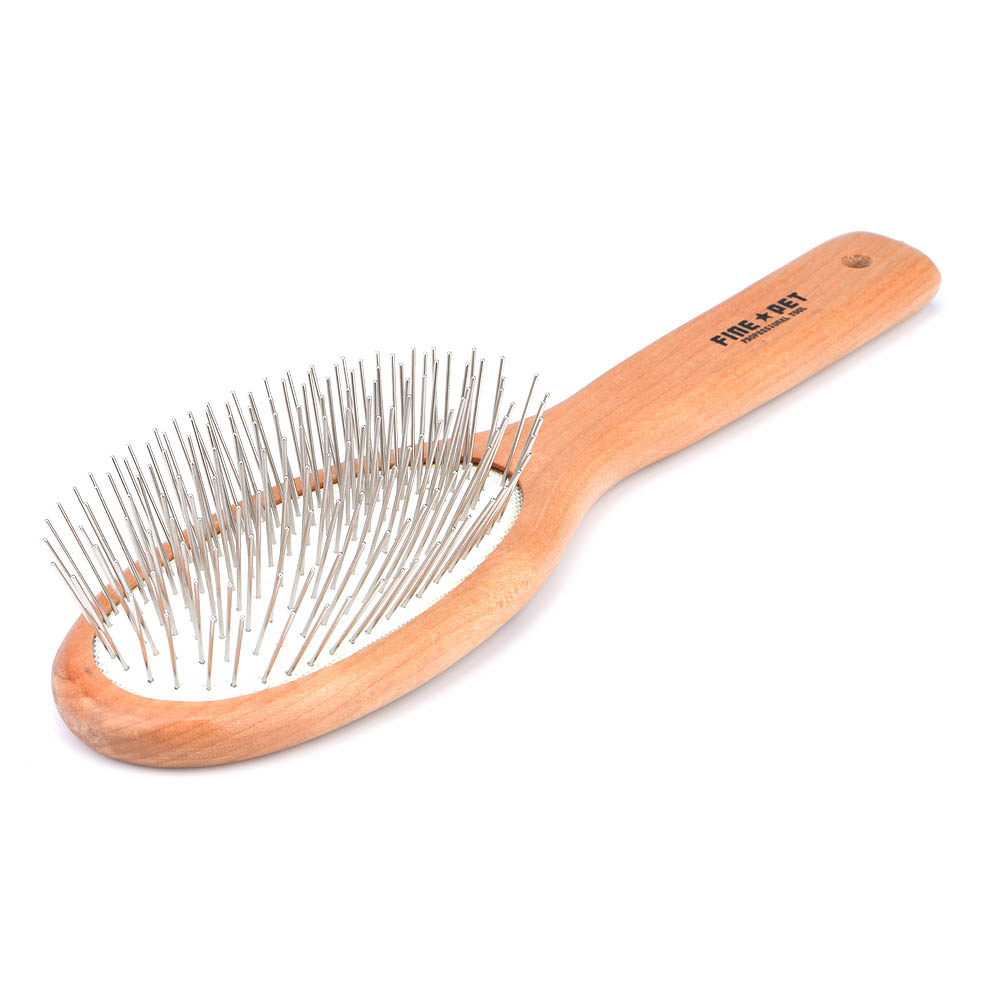 Useful:
Groomer Recommended Pet Brush Tool – For Professional or At Home Use – Perfect Choice for Grooming Your Dog
Whether you're an ordinary pet owner looking to save money on grooming bills or a pro groomer needing to invest in new grooming equipment, you know you can depend on Poodle Pet to provide top notch pet supplies. This dual-sided pet grooming pin brush does it all for convenience!
Saves Space + Nearly Cuts Grooming Time In Half – Efficiently Groom & De-Clutter Your Garage, Pet Supply Cabinet
This professional grooming dog saves you time when grooming your dog or your clients. It also saves a ton of space.
Anti-Slip Brush Handle – Unlike most pet brushes for dogs & cats, this one has been upgraded with a non-slip handle. It's easy to grab & hold on to, thus preventing accidents when grooming your cat or dog at home.
Promotes Healthy Fur – When used regularly as a groomer brush to groom your dog or cat, this pet brush helps you maintain the beautiful luster of your pet's hair to ensure he or she looks his or her best
PINS: The mini metal pins that are featured on one side of the Poodle Pet groom brush gently but thoroughly reach deep to untangle hair & remove knots. The balled ends of the pins glide across the skin of your pet, lightly massaging your pet into relaxation mode as he or she is groomed.
Can't wait to reveal the true beauty of your pet's fur? Save time, hassle & money. Order a Poodle Pet brush for pets!
How to use:
1. Comb suitable for all kinds of daily dog hair grooming and massage. Brushing daily hair 10 minutes, can promote blood circulation, so that dog hair more shiny and beautiful. Morning and evening bristles 1, each combing 5 minutes.
2. Combing order: starting from the neck, from front to back, from top to bottom in turn, that is, first from the neck to the shoulder, and then followed by back, chest, waist, abdomen, hindquarters, and comb the head, and finally Limbs and tails, combing one side and combing the other.
3. Combing practices: Combing should be smooth hair direction comb. Move gently. In combing hairy dogs, should be combed layer by layer, that is, long hair upside down, the bottom hair combing.